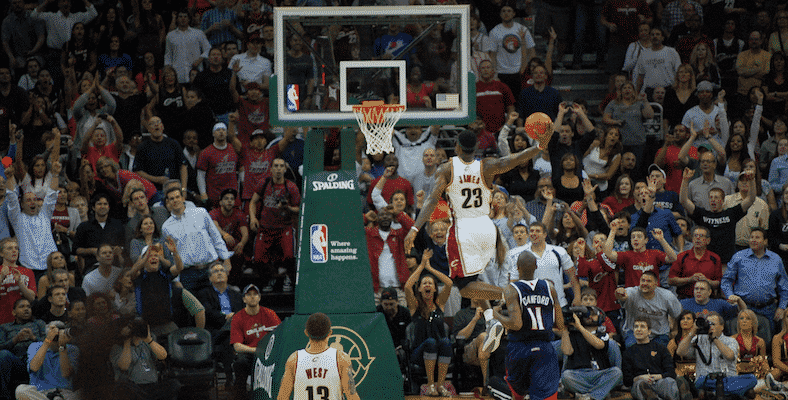 As baseball winds down and the current NFL season reaches its midpoint, the 2016-17 NBA season opens for business to ensure we never go a week without one professional sport or another to watch and bet on. This post will serve as both an early preview of this year's basketball betting outlook and also as a holding place for any new NBA betting bonuses that are announced as the season progresses.
The 2016-17 NBA season officially begins on Tuesday, 25 October with three games on the slate. The very first game of the new season will have the 2016 championship winning Cleveland Cavaliers host the New York Knicks at Quicken Loans Arena at 8 PM ET. At 10 PM and 10:30 PM, we'll also get to see the Portland Trail Blazers host the Utah Jazz and the Golden State Warriors host the San Antonio Spurs.
---
Recommended NBA Betting Sites
---
From there, things ramp up into a busy six months of regular season play across 2,460 individual games. That is a lot of opportunities to bet on basketball, so the time is now to decide where you'll be betting and which bonuses you'll be snapping up this year.
Noteworthy NBA Bonuses
Basketball ranks as the second or third-most popular sport for betting in most countries and even a third place ranking equals a ton of betting action. Basketball betting sites always come through with new promotions at the beginning of the NBA season and then update those offers periodically throughout the season.
However, the general trend I've noticed over the years is that short term basketball betting bonuses tend to be overshadowed by year-round welcome bonuses. In other words, if you don't already have an account at one of the main bookmakers, you will probably get the most for your money by signing up as a new customer and focusing on welcome bonuses.
If you do already have an account at all the major online betting sites, then it is time to look for NBA-specific bonuses. The vast majority of NBA bonuses are available to new and old customers alike.
Some bookmakers offer a year-round accumulator bonus for NBA betting and other North American sports. They call it the "Parlay Bonus" and it increases all winnings on successful basketball accumulators. The more legs in your parlay, the bigger the payout.
Doubles accumulators add 5% to your standard payout while trebles add 7.5% and 4-folds add 10% extra. The bonuses increase in size from there to a maximum of 50% extra on 12-fold or larger accumulators.
Basketball is one of the more popular sports for parlays due to the frequency of games and number of games to choose from throughout any given day or week. If you tend to bet on multiple games at a time, parlays increase your winnings significantly. The one catch (of course there's always a catch) is that every selection in your slip must win. If you get just one game wrong, the whole accumulator is considered a loss.
This is why conservative punters tend to stick with 2 or 3 game basketball accumulators. Trying to pick the winner of just one basketball game is a challenge on its own. Picking correct outcomes in 2 or 3 games is even more difficult, but doable. Once you get beyond that, however, you're probably just gambling for a huge payout. Not that there's anything wrong with that, but let's not fool ourselves.
2016-17 NBA Futures
It feels so early to discuss the 2016-17 NBA Championships, but the oddsmakers have already published the odds for each team to win it all this season. I do know some people like to get a little money in early, forget about it and then be pleasantly surprised if their team does indeed get the job done.
One of the nice things about taking super early futures positions is you're sometimes lucky enough to get great odds on a team that later proves to be stronger than anticipated. However, last year's winners are rarely worth backing at this time due to the public backing those teams heavily and exerting downward pressure on the odds.
Of course, the big downside to early futures is a severe information deficiency. Sure, we can watch all the trade news, injury updates and practice sessions, but nothing beats watching the teams in action in real games. And even if you have no plans to bet on NBA championship winners, it's still interesting to know how the oddsmakers view each team's chances.
| | William Hill | ComeOn |
| --- | --- | --- |
| To Win 2017 NBA Championship | | |
| Golden State Warriors | 5/6 | 10/13 |
| Cleveland Cavaliers | 3/1 | 33/10 |
| San Antonio Spurs | 7/1 | 17/2 |
| Boston Celtics | 20/1 | 22/1 |
| Los Angeles Clippers | 22/1 | 22/1 |
| Atlanta Hawks | 33/1 | 45/1 |
| Toronto Raptors | 28/1 | 33/1 |
| Oklahoma City Thunder | 33/1 | 33/1 |
| Chicago Bulls | 33/1 | 45/1 |
| Indiana Pacers | 66/1 | 50/1 |
| New York Knicks | 40/1 | 45/1 |
| Memphis Grizzlies | 66/1 | 66/1 |
| Minnesota Timberwolves | 50/1 | 55/1 |
| Utah Jazz | 50/1 | 66/1 |
| Miami Heat | 40/1 | 50/1 |
| New Orleans Pelicans | 66/1 | 70/1 |
| Portland Trail Blazers | 80/1 | 90/1 |
| Washington Wizards | 100/1 | 90/1 |
| Detroit Pistons | 100/1 | 100/1 |
| Houston Rockets | 66/1 | 70/1 |
| Dallas Mavericks | 80/1 | 110/1 |
| Milwaukee Bucks | 100/1 | 110/1 |
| Orlando Magic | 150/1 | 110/1 |
| Charlotte Hornets | 100/1 | 125/1 |
| Denver Nuggets | 150/1 | 175/1 |
| Los Angeles Lakers | 150/1 | 125/1 |
| Sacramento Kings | 250/1 | 225/1 |
| Philadelphia 76ers | 500/1 | 300/1 |
| Phoenix Suns | 500/1 | 450/1 |
| Brooklyn Nets | 500/1 | 500/1 |
| Eastern Conference Champion | | |
| Cleveland Cavaliers | 4/6 | |
| Boston Celtics | 6/1 | |
| Toronto Raptors | 12/1 | |
| Atlanta Hawks | 18/1 | |
| Indiana Pacers | 25/1 | |
| New York Knicks | 16/1 | |
| Chicago Bulls | 20/1 | |
| Miami Heat | 20/1 | |
| Detroit Pistons | 28/1 | |
| Washington Wizards | 40/1 | |
| Charlotte Hornets | 50/1 | |
| Milwaukee Bucks | 50/1 | |
| Orlando Magic | 80/1 | |
| Philadelphia 76ers | 250/1 | |
| Brooklyn Nets | 250/1 | |
| Western Conference Champion | | |
| Golden State Warriors | 2/5 | |
| San Antonio Spurs | 11/2 | |
| Los Angeles Clippers | 16/1 | |
| Oklahoma City Thunder | 20/1 | |
| Minnesota Timberwolves | 33/1 | |
| Memphis Grizzlies | 50/1 | |
| Utah Jazz | 33/1 | |
| Houston Rockets | 50/1 | |
| New Orleans Pelicans | 50/1 | |
| Portland Trail Blazers | 40/1 | |
| Dallas Mavericks | 66/1 | |
| Los Angeles Lakers | 100/1 | |
| Denver Nuggets | 150/1 | |
| Sacramento Kings | 250/1 | |
| Phoenix Suns | 250/1 | |
| Atlantic Division Champion | | |
| Boston Celtics | 1/1 | |
| Toronto Raptors | 1/1 | |
| New York Knicks | 10/1 | |
| Philadelphia 76ers | 150/1 | |
| Brooklyn Nets | 250/1 | |
| Central Division Champion | | |
| Cleveland Cavaliers | 1/8 | |
| Indiana Pacers | 14/1 | |
| Chicago Bulls | 18/1 | |
| Detroit Pistons | 12/1 | |
| Milwaukee Bucks | 66/1 | |
| Northwest Division Champion | | |
| Utah Jazz | 9/4 | |
| Oklahoma City Thunder | 5/2 | |
| Portland Trail Blazers | 5/2 | |
| Minnesota Timberwolves | 15/4 | |
| Denver Nuggets | 50/1 | |
| Southeast Division Champion | | |
| Atlanta Hawks | 2/1 | |
| Miami Heat | 5/1 | |
| Washington Wizards | 5/2 | |
| Charlotte Hornets | 5/2 | |
| Orlando Magic | 33/1 | |
| Southwest Division Champion | | |
| San Antonio Spurs | 1/8 | |
| Memphis Grizzlies | 10/1 | |
| Houston Rockets | 12/1 | |
| New Orleans Pelicans | 50/1 | |
| Dallas Mavericks | 33/1 | |
| | www.williamhill.com | www.comeon.com |