Online sportsbooks aren't usually in the business of giving away freebies. So, when they do, bettors should seize the opportunity.
No-deposit bonuses are a special type of welcome offer that allows bettors to check out a book without further obligation. Bettors may even net a few dollars in the process.
In this guide, Betting Bonuses explains what no-deposit bonuses are and how to claim them along with helpful tips on how to use them to build a starting bankroll.
No Deposit Sportsbook Offers
What is a No-Deposit Bonus?
A no-deposit bonus is exactly what it sounds like. It's a small chunk of change, usually in the $10 – $40 range, gifted by a sportsbook. Bettors cannot immediately withdraw no-deposit bonuses, but they are free to cash out their winnings after meeting predetermined criteria.
There is no monetary commitment required to receive a no-deposit bonus. All that books ask in exchange is that bettors successfully compete the registration process.
No-deposit bonuses are often paired alongside standard sign-up deposit bonuses. Traditional deposit bonuses are often much larger but require bettors to input their financial information and make a deposit.
So why do sportsbooks give away free bonuses? Mobile sportsbooks are in a scramble to acquire customers. From their perspective, adding another name to their customer database is well-worth the marketing expense. The hope is that bettors will enjoy their experience on the site, maybe even win, and become loyal patrons.
Likewise, no-deposit bonuses also pose multiple benefits to bettors. Even if their wagers come up empty, they get to experience a sportsbook, and decide if they want to stick around or move on to another book.
Claiming a No Deposit Bonus
To claim no-deposit bonuses, bettors must first register with an online sportsbook from their mobile device or desktop computer.
Note: Mobile users may be allowed to register through their mobile browsers but usually need to download a sports betting app before placing real-money wagers.
The sign-up process is relatively straightforward and uniform across different books. Bettors must enter information such as their full name, address, and email, and check off a few terms and conditions boxes.
New users must also provide some sensitive data, including their date of birth and the last four digits of their SSNs. Sportsbooks operate in a strict regulatory environment and must provide this information so sportsbooks can conduct identity verification checks as required by state law.
Some states require bettors to register their online sports betting accounts in person. But in most states, bettors can register accounts and claim no-deposit bonuses from nearly anywhere. In fact, bettors can even register while out of state if they plan on visiting a state with legal online sports betting. They just won't be able to place places until they are located in a state with legal mobile betting.
Bettors can usually claim no-deposit bonuses without a promo code, but readers can check with Betting Bonuses often for the latest promo codes and occasionally find exclusive bonuses that are better than the usual welcome offer.
Types of No Deposit Bonuses
There's no such thing as a "bad" no-deposit offer. It is free money, after all. Yet, that's not to say that all bonuses are created equal.
There are two primary types of no deposit sports betting bonuses. The first works like a site credit. Bettors can use it to place a few wagers and will receive both the profits and initial stake back on winning bets.
Bettors must meet certain conditions before converting their site credit to cash. These may include:
Wagering requirement: Bettors will usually be asked to wager, or roll over, their no deposit bonus a certain number of times. For instance, if the no deposit bonus amount is $20 and the wagering requirement is 5x (or 5 times), the bettor will have to wager $100 ($20 x 5) before the bonus becomes cashable.
Maximum win: Sportsbooks may set a ceiling on the amount a bettor can win. This condition is particularly common for no-deposit bonuses since they can be easily abused.
Format and odds restrictions: Sportsbooks may place strict eligibility requirements on their no deposit bonuses. Bettors may be prohibited from using them to bet heavy favorites. They may even be forced to spend them on select formats, like same game parlays.
Deposit restriction: It's rare, but a sportsbook may not allow bettors to withdraw their no deposit bonus winnings until after they make an eligible deposit.
More commonly, no-deposit bonuses come in the form of bonus bets. The main drawback to bonus bets is that the initial stake is not returned on winning wagers. So, if a bettor uses a $10 bonus bet to bet an NFL spread at -110, their return would be just $9.10 – less than the amount of the original wager. For this reason, many suggest using their bonus bets to bet attractive underdogs.
The other problem with bonus bets is the lack of flexibility. If a sportsbook awards two $10 bonus bets, then bettors have no choice but to use them to make exactly two $10 wagers.
The good news is that bonus bets are only subject to 1x wagering requirement. Also, it's rare for a sportsbook to impose an upper limit on how much a bettor can win.
Nearly No-Deposit Bonuses
Unfortunately, no-deposit bonuses have fallen out of favor among sportsbooks and horse racing sites.
Instead, they've been replaced with a new alternative, that does require a small deposit, but has a significantly bigger upside.
For lack of a better term, these "Nearly No-Deposit Bonuses" straddle the line between no-deposit bonuses and traditional first-time deposit bonuses. Here is an example of one from DraftKings Sportsbook: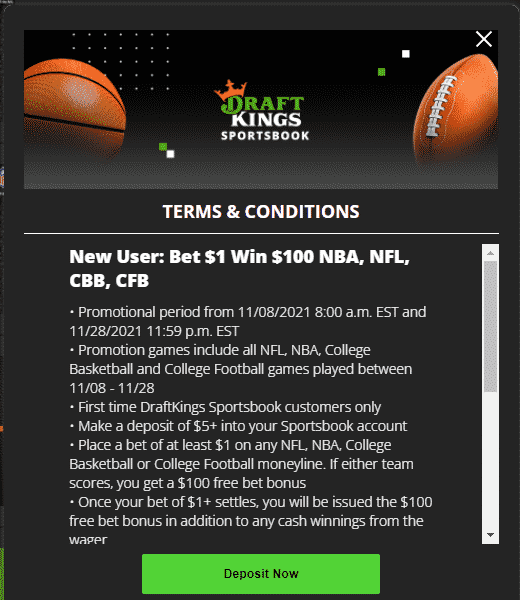 To claim this bonus, bettors must be new to the sportsbook, and must make an initial deposit of at least $5. They then place a very small wager, in this instance just $1+, on any NBA, NFL, NCAAF, or NCAAB game. If either team scores a single point, bettors are awarded a $100 bonus bet.
It's obvious that DraftKings intends for all new users to win their wager, as it's somewhere between virtually impossible and actually impossible for a football or basketball game to end in a 0-0 tie. In this respect, nearly no-deposit bonuses function similarly to no-deposit bonuses.
Another notable aspect of this promotion is that DraftKings splits the bonus bets into four $25 increments. This gives bettors more opportunities to spread the wealth, and to experiment with different betting formats. DraftKings probably designed its nearly no deposit this way to keep new customers engaged on the app for longer.
The bonus bets must be used within 7 days of being issued, and winning wagers only return profits, not the initial stake.
The biggest downside to nearly no-deposit bonuses is that they technically count as first deposit bonuses. Bettors that claim them won't qualify for another signup bonus. For DraftKings customers, this means they cannot claim its standard 20% up to $1,000 deposit bonus.
In the end, bettors will have to make a choice. Do they lock up a $100 bonus bet credit (conservatively worth $50 cash) with virtually no upfront investment? Or do they embrace risk and make a much larger deposit, in the hope of coming out hundreds, or even thousands, ahead?
The answer is really going to depend on the bettor. Those on limited budgets are probably better off playing it safe and claiming nearly no-deposit bonuses if they're available. While bettors who can afford to take full advantage of large deposit bonuses and first bet offers should do so, as the expected return on these promotions is much higher.
Wes Burns co-founded BettingBonuses.com to help bettors clearly understand offers and promotions at legal online sportsbooks and betting sites.   Wes has worked in the regulated online betting industry since 2008.